Get Our Free Top Eleven Tips Report!
Because we know that getting the right child support calculation is a complicated process, we have made a list of things to make sure that you check or have ready before you get your support calculation done.
In this free report we will give you some important information that will enable you to make sure that your child support is calculated correctly.
Whether you use our service or another service, make sure that you have everything you need and get your support calculation done correctly.
Remember, once you have your support modified, it's going to be a while (maybe even years) before you will be getting it modified again. You want it done right so your support won't be under or over what it really should be.
To get our free "Top Eleven Tips" just fill in your email address and press Submit.
---
California Child and Spousal Support Calculations Professionally Done
We are an online California child support calculator service that provides child and spousal support calculations using the DissoMaster™ software. This is the same program used most often by California Family Law Professionals throughout the state. All our reports are emailed directly to you, usually within hours.
We provide a comprehensive DissoMaster™ report, including:
DissoMaster™ Report included
Formal Report included
Findings and Rebuttals Report included
Child and Spousal Support Order included
Annual Bonus Reports and Monthly Overtime Charts included when requested
Confidential, professional and secure
Over 15 years of experience using the DissoMaster™ program
We calculate both child and spousal support payments
Get the same support calculation as the California Family Court
Reports emailed directly to you in PDF format
Reports same day, usually within hours
Good for every county in California

Satisfaction Guaranteed
Your satisfaction is our first priority. If you find that once you receive your report you would like to make some changes, we will gladly make the changes for you at no charge!


DissoMaster™ Support Calculation for $39.95
***Up to 10 revisions to your report at no additional charge!***
Order Your DissoMaster™
We take payment by Major Credit Card, PayPal® or eCheck.

Email us at orders@childsupportca.com
©2004 - 2013 All Rights Reserved
California Child Support Calculator with Dydo Services
P.O. Box 20314, Fountain Valley, CA 92728-0314
*Up to 10 revisions to your report within 30 days of your original order.
revised 5-11-10
DissoMaster Report: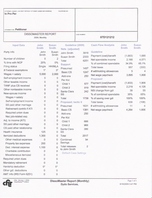 You will receive a comprehensive report when you order your child support calculation from us. These reports are the same reports used in the California Family Court system and are good for every county in the state of California.
---
What our customers say...
"Thank you for all the work you did for me. This is a difficult time and you made it that much easier to make the decisions that need to be made. Again, thank you!"
"We are very satisfied with the speedy response and valuable information received. You have been awesome! We would recommend it to all our friends in need of similar information."
"THANK YOU! Your efficient response is immensely appreciated. If we require any further assistance we will most definitely contact you. We have added your web page to our bookmarks. I'll be glad to pass on your info to others in need of similar services. Thanks again."
"This was an awesome service. I have to appear in court on Monday for child support and I wanted to verify what I should be paying. I had the Dissomaster info back in under 30 minutes and I needed a revision and got that back in about 5 minutes. I would recommend this site to anyone who needs to know what they have to pay for support."